Improving Quality Control to Deliver Superior Services
In the continuous pursuit for excellence, E-Management Associates, LLC opened the doors to its new Remote Statement Services Printing Division on August 10th, 2015. Here is the story of our journey.
More than a decade ago EMA entered a strategic partnership with a print and mailing service company based in Scarborough, Maine. Although this partnership allowed EMA the agility for growth, in 2014 the need for more control became apparent, and EMA began the exploration of stating its own state of the art printing and mailing facility.
Beginning with a sound business plan illustrating a positive return on investment to control the rising mailing costs while ensuring superior quality control through efficient processes and state of the art technology, EMA then allocated the necessary capital for reinvestment to open its new RSS Printing Division.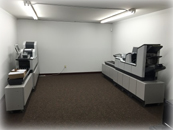 In early 2015, EMA then began acquiring the necessary equipment to implement its business plan starting with two state of the art NEOPOST Folder Inserters. Although one NEOPOST DS-160 HP met the needs for the new RSS Printing Division, EMA made the decision to acquire two Folder Inserters to account for growth and ensure zero down time through redundancy and a four hour service agreement with FORMAX® in Dover New Hampshire.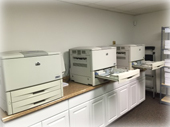 After a careful assessment of high speed laser printers capable of the handling the demanding needs of Patient Friendly Billing, EMA purchased three HP LaserJet 9050DN printers capable of printing fifty-five pages per minute. Although only one printer was needed, to ensure zero down time, EMA purchased three printers and entered a service agreement Dataterm, Inc. to maintain the printers.
With all the necessary hardware attained, EMA then secured a location less than a ¼ mile away from its corporate headquarters to perform the printing, folding and inserting and enough space for growth to warehouse the forms and envelopes for more than 10 times the number of clients EMA presently serves.


Utilizing E-Management's proprietary software in conjunction with FusionPro VDP Creator, EMA then spent the next sixty days creating all the necessary custom programs, templates and quality control processes to ensure a superior process for it clients. Some of the enhancements included (but were not limited to) PDF archiving of all printing, intelligent duplexing and improved USPS qualifications through efficient addressing.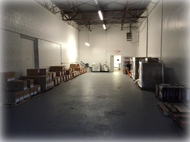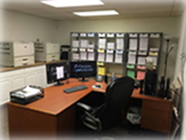 During the final stage of implementation, EMA then secured all the necessary strategic partners to supply custom forms, envelopes, inserts, mailing supplies and presorting. EMA also took this opportunity to make certain that all custom forms were properly formatted to provide industry leading Patient Friendly Bills.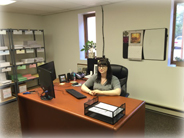 Standing by E-Managements core values and philosophies, Alison Angelo, a former Customer Service Supervisor, was then promoted to the newly-created position of Manager of Remote Statement Services. On Monday August 10th, 2015 EMA opened the doors to its newly created Remote Statement Services Printing Division. Sixty days later, we are proud to announce that our new division is running smoothly as we continue our tireless pursuit of perfection.
For more information about our Remote Statement Services please feel free to visit our Services page or contact Dana Walker at 800-639-3129, extension 102.




800-639-3129